Anyone with a business in Los Angeles knows that every penny of your budget counts. Santa Monica is the 4th most expensive place in the country for real estate, with the rest of LA coming in at 8th. If your company is considering developing a mobile app, it's best to weigh the pros and cons first. Is it worth hiring a mobile app development agency in Los Angeles?
While mobile apps might seem like a relatively new tool for businesses, they've been around for a while now. While basic phone apps like games and organizers have been around since 1997, even the Apple App Store has existed for over 13 years. Many businesses have been taking advantage of apps for over a decade now to reach new customers and provide better experiences.
If you've been thinking about developing an app for your businesses, you've probably seen just how many options are out there. But no matter your path, it's incredibly likely that you'll need to work with a mobile app development agency.
Los Angeles has plenty of development agencies to choose from. But how can you know if it's worth it for your business to develop an app with an agency?
What You Want Out of a Mobile App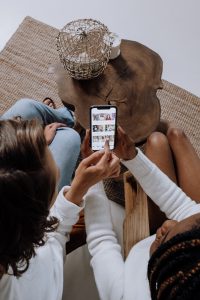 First, you should determine the reasons you want to develop an app for your business. Analyzing what your business will and won't get out of an app is a great first step. You want to know the worth of a mobile app for your company before you go searching for a development agency.
Here's a few strong reasons you may be pushing for a mobile app: 
Business is slow: If your company is experiencing less interaction with customers than usual, it may be time to look into finding new ways to reach them.
You can't keep up with new business: If you've recently experienced an uptick in new customers but are struggling to manage them, an app can help. An app can be a passive entity that makes sales, books appointments, or otherwise helps you deal with higher volumes of customers. There's a reason that every major retailer has their own mobile app.
You want something more modern than your website: Web design has greatly improved over the years. If your website isn't hooking customers as well as it should be, a mobile app can help pick up the slack. This is especially the case if your website isn't optimized for mobile.
Your company is looking to expand: Proactively developing an app can be a great move. If you are planning on adding new branches to your company, or expanding to new markets, developing an app ahead of time can help this growth happen as smoothly as possible.
Whatever you're seeking with mobile app development, make sure you know what it is before looking for a developer. It's a big investment, but also a massive representation of your company. Over half of all internet traffic happens on people's phones, so make sure your business shows its best side on the mobile end.
How Much Will It Cost?
You should understand some ballpark financial costs for developing an app. A small app developed for a user base in the low thousands will run around $10,000 to develop. This includes design, development, and marketing costs.
If raw cost is a worry for you, there are ways to reduce the cost of mobile app development. But cutting corners to save on cost is not a good way to approach app development. That's why it's important to know what you want out of a mobile app. That way you know what you really do and don't need before you hit development.
(If you need an in-depth breakdown on cost, check this blog post out here)
Remember though, this is an investment. While $10,000 can seem high for a small business, mobile apps can greatly extend your reach and ability to interact with customers or users. It literally puts your business in the pocket of who you want to reach.
If you aren't 100% sure about whether or not you're ready to start developing an app, you should perform a cost-benefit-analysis. This is a more in-depth way of measuring if it's worth it for your company to make any decision. It'll help you weigh all costs (direct financial costs, opportunity costs, and indirect costs) versus the benefits of the decision.
What to Look for in a Mobile App Development Agency
Once you're ready to actually choose a development agency, you need to make sure you make the best decision. Los Angeles has countless development agencies, and there's even more individual freelancers out there. Make sure you only go with the best.
If a company is inefficient with their development time, it can push your budget higher than you're prepared for. The last thing you want is to sink thousands of dollars into developing an app, only to be left with an unfinished product when your developer doesn't stick to their timeline.
How can you be sure a development agency won't waste your time? Take a look at their track record. Any good developer will have strong results that they can show you so that you know they mean business.
Since you've already spent time figuring out what you want out of your app, make sure to communicate that to any potential agencies.
Do you want to prioritize design or functionality? Ease of use or depth of experience? The right development team for you should be able to do exactly what you want.
When you're looking at past work, make sure to look out for the things you want in your app. If a developer's other projects don't look particularly appealing to you design wise, you'll want to find a company that has a style that you like.
Make sure you pick a company that you trust. This process is a financial investment, but also a time investment. The app development process can take months, and sometimes even years. You want to spend that time working with a team that takes care of your vision. Don't be afraid to spend significant time shopping around for development agencies.
The Right Company Makes It 
Determine what you need out of mobile app development and who the best team is to develop it. Once you can do that, mobile app development is certainly worth it, especially in Los Angeles. A mobile app can unlock new markets, and even give you new ways to interact with customers that just isn't possible in other ways.
A good development team will allow you to focus on your business during the development process. They will make the most of your investment, but also keep you from being too bogged down in the development process.
It's tough being any company in one of the largest metropolitan centers of the world. You need all of the tools you can utilize to stand out and excel in your individual field. The right development team will help you realize exactly those tools.
Ready to start your mobile app development journey?
Click here to schedule a free project consultation.